Activities and entertainment
At the campsite
At Les Prades campsite, the right to entertainment is universal. Children, teenagers and adults can enjoy their favourite lesiures in a safe environment. As well as swimming, in our aquatic area or in the river, a whole range of activities will punctuate your holiday.
Not a week without a petanque, volleyball or archery tournament (approved by the Olympic Committee of the campsite Les Prades) ! It's a great opportunity to share leisure activities and meet new people, both sporting and human.
Two major new additions to our summer events calendar: a life-size orienteering race and the "Crime Caravan" (for 14-year-olds and over). Cluedo giant for budding investigators … and on grass
200m2 heated aquatic area
One of the most beautiful of Tarn gorges
Sauna
Free access to the sauna
Tennis
Free access on booking and ball and racket rental
Archery
Activity set up by our animators
Petanque
2 boulodromes and boules set loan
Ping pong
4 outdoor tables awaits you
Volley ball
On grass, with ball loan
Badminton
On grass, with racket and shuttlecock loan
Apparatus
The ideal complement to your fitness sessions
Slackline
Watch your balance on a tightrope
Children area
And trampolines
Stand Up Paddle
On Tarn water, very quiet in front of our grassy beach
Fishing
in streams and rivers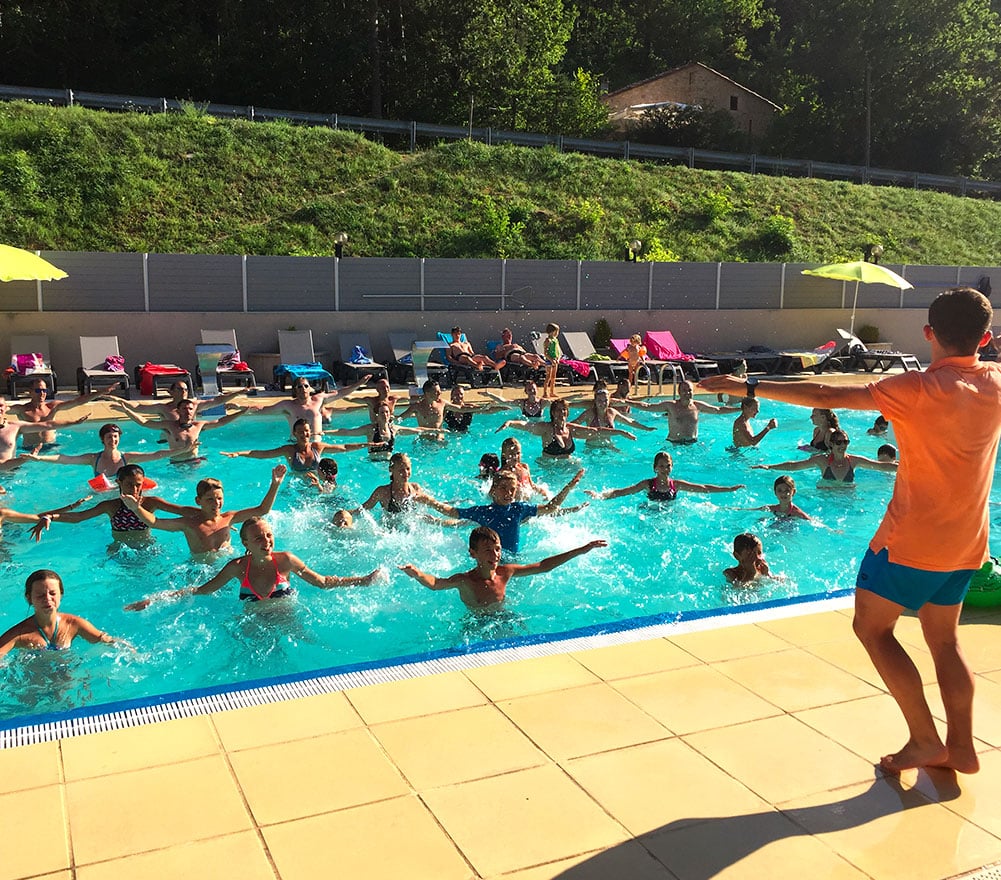 Activities and entertainment
Outside the campsite
A hiking paradise
The cornices of the Méjean, with the Vase de Sèvres and the Vase de Chine, unique rock formations. The hermitage of Saint-Michel, on the ledges of the Causse Noir, and the hermitage of Saint-Pons, between the Tarn Gorges and the Jonte Gorges.
Hiking in the Tarn Gorges reveals a myriad of sublime sites and absolutely majestic landscapes. IGN maps are on sale at the campsite reception. Gilles, our host, will be delighted to help you read them. He will be able to point you in the direction of nearby hiking trails, depending on their duration and level of difficulty.
You can also consult the medium mountain guides, who will guide you throughout your hike.
Hiking
Canoe Kayak
Mountain Bike
Climbing
Canyoning
Speleo
Tree climbing
Paragliding
Horse riding
On a pedestrian itinerary
Follow the Tarn river on a superb walking tour ! The GR*736 "Gorges and valley of the Tarn" takes you from Villefort (48) to Albi (81) in fifteen stages. Cross the Cévennes, the Grands Causses and the valleys of the Ségala, follow the Tarn gorges on the left bank, discover the Raspes du Tarn, those other lesser-known gorges… A beautiful route, detailed in the GR*736 topoguide published by the French Hiking Federation.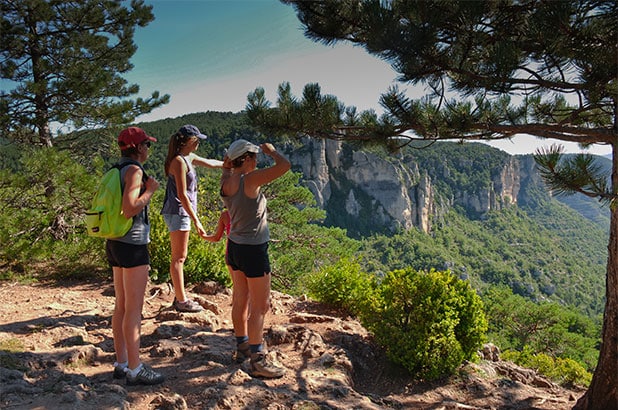 In mountain bike, gravel or trail mode
The Causse Noir, whose cliffs border our campsite, is a dream spot for mountain biking and gravel biking. The Rando Grands Causses mobile app suggests two great mountain bike trails on the plateau and a little gem of a gravel bike ride – long distance – through the Tarn gorges See also the Millau sports nature website.
Plus, there are a number of trail routes between the Jonte and Tarn Gorges for the more experienced sportsmen and women. Check them out online at the Espace trail Millau Grands Causses and, again, the Rando Grands Causses mobile app.
Saint Michael's hermitage
The cornice tour
Agudes rock
Saint Michael's hermitage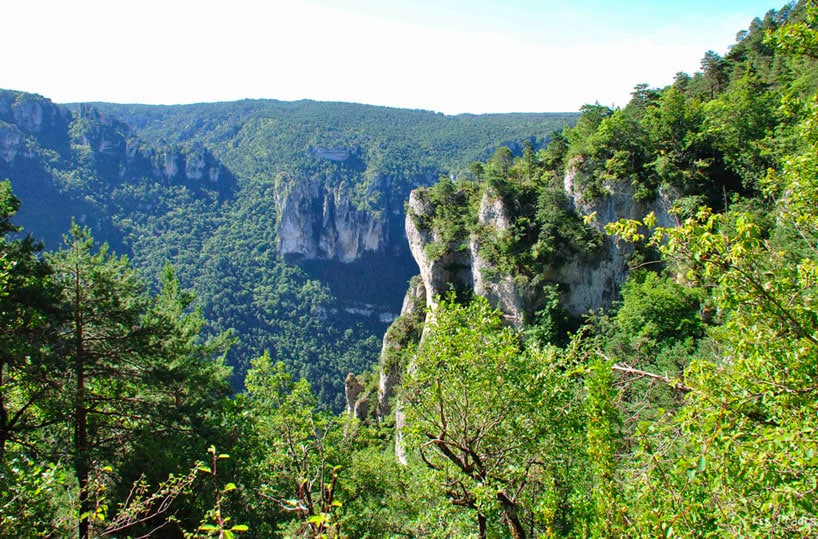 L'Ermitage Saint-Michel et les corniches du Causse Noir
Au départ de Peyreleau, vous remonterez la rivière Jonte par un chemin la surplombant d'environ 30 mètres. Après 3km, l'ascension vers le Causse Noir vous mènera jusqu'aux ruines de l'ermitage Saint-Michel. Vous longerez ensuite les corniches du Causse Noir, qui offrent une vue époustouflante sur les gorges de la Jonte. En face de vous : les Vases de Sèvres et de Chine, étonnants ruiniformes, et les grimpeurs qui les escaladent ! Une dernière montée vous fera découvrir la formation rocheuse du « Champignon préhistorique », puis vous entamerez la descente vers Peyreleau.
The cornice tour
Agudes rock
Canoeing and kayaking: paddle on, we'll take care of the rest
Canoeing and kayaking at Camping Les Prades is never a problem! Boats, paddles, helmets and life jackets: the full range of equipment is available for rental on site.
Our shuttle bus will take you to the starting point of your trip on the river Tarn, to Les Vignes for "La Sublime", or to La Sablière for "La Minouchette".
At the end of your nautical escapade, dock at the landing stage: our white pebble beach. We'll take ourselves your equipment up to the rental base.
Summing up? No car, no material complications. Just paddling, fun, wonderful scenery and plenty of bathing breaks.
The Sublime > 16 Km
This 16km route starts at the village of Les Vignes, in the Gorges du Tarn, downstream from the Pas de Soucy. It's a breathtaking sight in the heart of limestone canyons where villages and hamlets, some of them troglodyte, nestle. Don't miss out on a stopover on the beautiful beaches of the Tarn and don't forget your picnic.
The Minouchette > 8 Km
An 8km hike… and a discovery trail ideal for young freshwater paddlers (from age 7). The canoe trip starts at the village of La Sablière, one of the most emblematic hamlets in the Tarn Gorges, isolated on the left bank. Pure pleasure.
Information: from age 7 – must be able to swim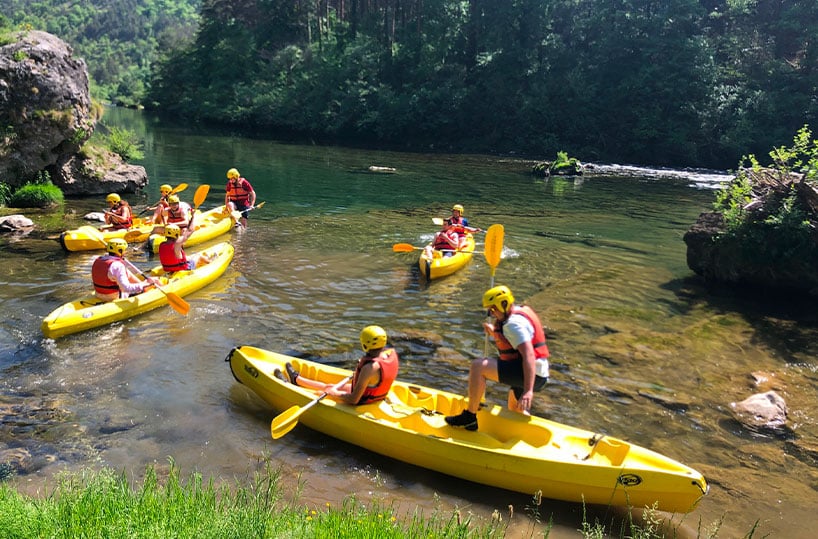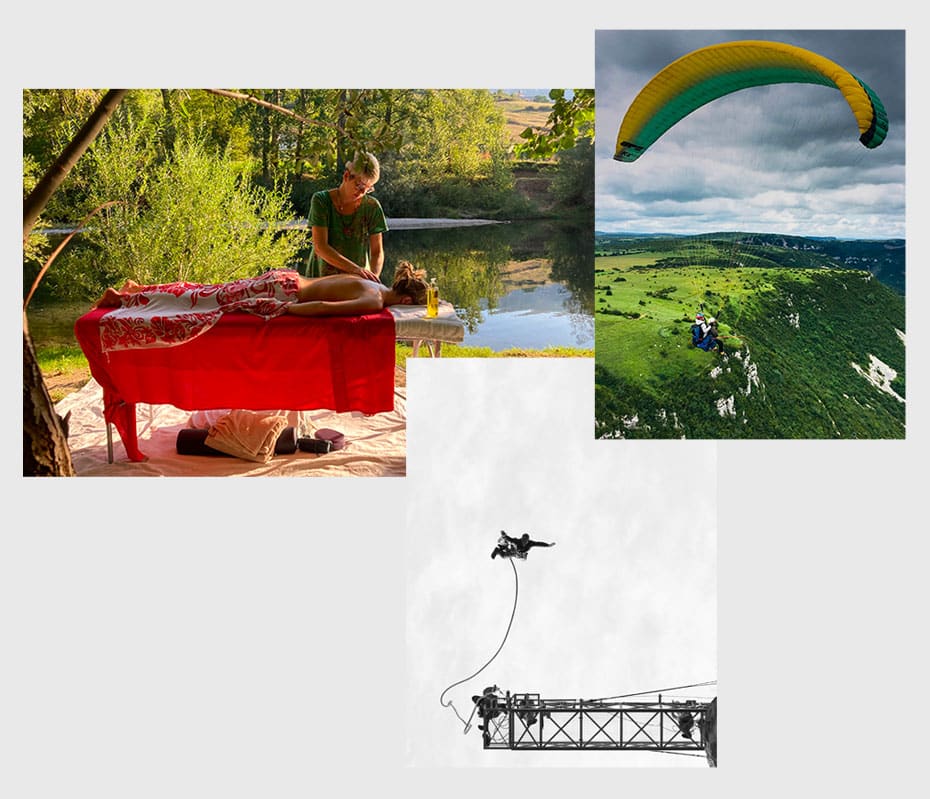 Our partners in the outdoors
With our loyal partners, discover the Gorges du Tarn and the Grands Causses differently:
Over cliffs (via ferrata, climbing) in the rapids of the Dourbie (canyoning), up trees (accrobranche) or underground (speleology) with ANTIPODES SPORT NATURE.
Take to the skies with AIR ZONE PARAPENTE's aerial tours.
Pedal power, with DUVERBIKE's mountain bike outings and bike park
Vertiginously, bungee jumping with LE 107
Fabulous experiences in beautiful surroundings!
And what's more, all these service providers come to you: you can meet them every Sunday during the season at 7pm, during our welcome drink.
AND DON'T FORGET :
Aquagym sessions once a week (free)
Massage (paid) two to three times a week, on the grass beach of the campsite. Ideal after swimming !